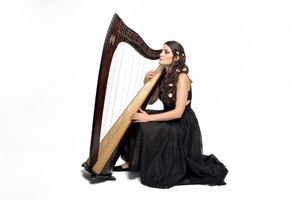 The Story of Thistle's Music
Led by composer, singer and harpist Thistle Jemison, the music of THISTLE is best categorized as Chamber Folk, an amalgamation of the jazz, western classical, world music, and folk genres.  Playing live as a trio, a revolving cast of classically trained musicians play Jemison's original through-composed scores, weaving a rich cinematic backdrop upon which stories inspired by literary works are sung. THISTLE's 2019 debut album The Ice Maiden Comes, is a collection of eleven  original songs, each based on one of Hans Christian Andersen's stories. For THISTLE's  upcoming release Mysterious Star: A Tribute to Poe, Thistle has crafted into songs a handful of  Edgar Allan Poe's stories and poems, including "Spirits of the Dead," and "The Raven." In 2023,  Chamber Music America awarded Thistle an Artist's Project Grant in order to help promote the  record, calling the music "beautiful, unique, and hypnotic." Thistle is a performer with Astarte  Creative Agency, and has toured as a member of cello rock band Rasputina, of 1990's fame.  
Thistle was born to two painters who took art seriously. Fostering creativity, art-making, and independent thinking were among their primary child-rearing goals. Thistle's mother heard the piano is the "gateway" to all instruments, and insisted all her children learn; from the age of seven, Thistle practiced piano daily, studying classical and ragtime music,  especially enjoying the music of J.S. Bach. She played clarinet in middle school band, adding another hour a day to her practice regimen. While attending Quaker boarding school, The George  School, she took singing lessons, sang in rock bands, and performed the music of Ulali in Tuscaroran and English, with the daughter of founder Pura Fe. At Hampshire College Thistle studied singing, theory and composition in multiple genres, using the Five College Consortium  to her benefit: jazz at UMass, improvisation and world music at Hampshire College, South Indian Classical music at Amherst, and western classical theory and composition at Smith  College.  
Thistle finished her formal musical studies at the New School for Jazz & Contemporary  Music in Manhattan, achieving a BFA with honors in Jazz Voice. For six years, she studied  Karnatak (South Indian Classical) voice with Saavithri Ramanand in Queens, learning classic devotional songs of the Brahman caste in the Hindu, Tamil and Sanskrit languages. Before she learned to  play the harp, Thistle took up the electric guitar and the drums, creating a three-piece rock band  which she named Queen of Sibyls. She recorded an album of songs inspired by the alt rock  female-led groups of the 1990's (link to album Dark Horse in Music tab), but ultimately  abandoned this music due to its personal nature...it seemed to Thistle that singing about more universal  themes would be more gratifying.  
It was just before the recording of Dark Horse that Thistle was finally diagnosed with Celiac Disease, two decades after the onset of symptoms. An ADA recognized disability, Celiac Disease is debilitating when diagnosis is delayed. Thistle went on to spend the better parts of her 20's and 30's fighting for her life. Existing primarily in survival mode, the damages from the disease greatly affected the trajectory of her music career and her ability to physically make music. Nevertheless, Thistle's drive to share her gifts necessitated that she continue to try.  
Thistle began studying harp in her late 20's, under the tutelage of Tomoko Sugarawa, a classical  harpist and reviver of the ancient Japanese Kugo harp. Early on, she did some work as a session  harpist and vocalist with rock/folk bands such as Caitlin Cannon and the Cannon Dolls and Ben Shepard. She also took lessons from Marilu Donovan, harpist in the violin/harp duo Leya. During a four year hiatus from music, Thistle worked as a freelance interior designer in NYC, designed and managed her own vacation rental in the Catskills, and took drum lessons with Sara Landau of The Julie Ruin/Bikini Kill. In 2015, after performing for several months as a backup singer in a rock band, she returned to the harp, crafting songs in the folk music tradition, using the literature  of great authors as inspiration. Eventually Thistle felt drawn to arrange her music in the classical style of through-composition which she had learned at Smith College, and thus THISTLE was  born. 
The music of THISTLE is meant to serve as an access point to the spiritual world that lies behind  a veil, and which can be experienced through different states of mind. Exaltation, mystery, and  wonder are the emotions THISTLE wishes to evoke. Her lifelong passions for architecture and  visual art have greatly influenced Thistle's compositions, where sounds must fit together just so.  Thistle hopes to one day have a castle where her music can resonate within stone walls, and she can offer an artists' residency, providing a space for other artists to create in their most inspired state.
Over the years, THISTLE has included the involvement of some excellent musicians, both on recordings and live performances. They deserve to be noted here:
Roxan Jurkevich: A freelance percussionist, Julliard graduate, and former first chair percussionist for Barcelona Symophony Orchestra, Roxan has performed on television with Sting and Enya, among others. She also enjoys making her own techno music. Roxan has joined THISTLE as percussionist for the Chamber Music America performances in 2023 and 2024.
Reenat Pinchas: A freelance cellist and Julliard graduate, Reenat has joined THISTLE for her Chamber Music America performances in 2023 and 2024. 
Jeff Cook: Jeff expertly engineered, mixed and mastered THISTLE's Mysterious Star: A Tribute to Poe over a two year period. He began his engineering career in location orchestral recording where he worked with Fort Worth Symphony, Van Cliburn Foundation, and Dallas Wind Symphony. In 2004 Jeff became the director of the recording arts department for the University of North Texas. In 2007 he began working at grammy award winning sound designer Scott Lehrer's studio, 2nd Story Sound. Cook has engineered for many illustrious artists, among them Rufus Wainwright, Meredith Monk, John Zorn, MV Carbon, Lou Reed and Carnegie Hall.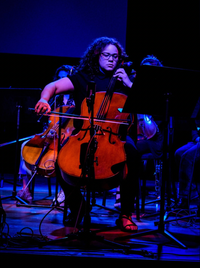 Alyssa L. Jackson: Alyssa is the LA based cellist in THISTLE. A composer, audio engineer, educator, and media artist, she has achieved a BFA in Cello Performance at Brooklyn College, as well as an MFA in Media Scoring from the Feirstein Graduate School of Cinema. She is interning as a composer assistant with renowned LA composer and songwriter Dave Sardy. Alyssa is featured in the photo directly to the left.
Carolin Pook: Carolin did two tours in Germany as part of the THISTLE duo in the early years. And she arranged the music of THISTLE for small orchestra, in which she performed as violinist while conducting. A German born composer and violinist, Carolin is a sought after recording artist and arranger on over 40 recordings for artists such as Kenny Garrett, Die Fantastischen Vier and Mike Doughty. In 2015 she won the Improviser in Residence at Moers, Germany, and still maintains ties to the city's music festival, interviewing international musicians for local television.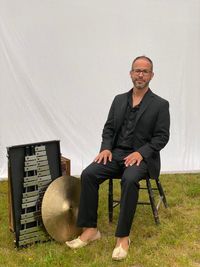 Al Cerulo: Al performs on classical percussion in THISTLE, and recorded most of the percussion on Mysterious Star: A Tribute to Poe. He is a classical percussionist and an advocate for the commissioning and performing of new works by both established and up-and-coming composers. He has been praised for his work as a musician and educator both nationally and internationally, and has worked alongside composers such as Pierre Boulez, George Crumb, Mario Davidowsky, Michael Gordon, and Steve Reich. Al is featured in the photo directly to the left.
Rami El Asser: Rami performed the darbouka and much of the complementary percussion on THISTLE's Mysterious Star: A Tribute to Poe. He performs at venues worldwide with groups including AlSarah & the Nubatones, Zikrayat, and Raquy DÜM. Rami's grooves also can be found on many  recordings, soundtracks, and live theatre productions. He recently appeared in the Broadway production of "The Band's Visit."
Nick Joz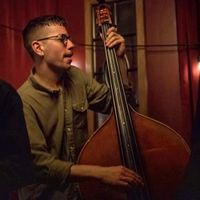 wiak: Nick recorded cello on both The Ice Maiden Comes and "Mysterious Star: A Tribute to Poe. He is a classically trained multi-instrumentalist, producer and DJ based in Brooklyn, NY. He releases dance, ambient and experimental musics under the name Nick Joz and tours internationally with many ensembles including Jolie Holland, Kimberley Thompson, and on the Peter Evans' Being & Becoming tour. He is featured in the photo directly to the left.
Adam Markiewicz: Adam arranged and performed violin for several songs on THISTLE's debut record The Ice Maiden Comes. He also introduced Thistle to Nick Jozwiak. Adam is a violinist and fellow alum of the New School for Jazz & Contemporary Music. He is the violin and voice to Marilu Donovan's harp in the classically inspired yet unmistakably alternative duo Leya who performs internationally.